Click here to contact us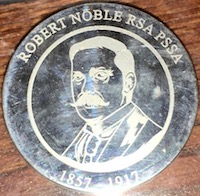 Today (Sunday 7th January),
Helen and Ian Patterson had a visit from two sisters who are third cousins of Robert Noble. Karen had comes from Oregon, USA and her sister Linda from New Zealand.
They toured around the East Linton, taking photographs of all the relevant sites, Preston Kirk, Preston Mill, and the River Tyne. They also took photographs the outside of the house on Preston Road and Drylaw Hill.
They had hoped to stay but an unexpected death relative here put paid to that idea.
A right at us and bought some books on Robert Noble and some cards. They thought it beautiful here and wanted to thank the local community in supporting the Robert Noble exhibition and book.
If you want a copy of the book about Robert Noble, or some cards contact Helen on 01620 860533
For a bit more information on Robert Noble click here


A contact from
Jacqueline Dowden (nee Wood)
Hullo my family lived in Walker Terrace and my sister MORAG and I went to East Linton Primary then on to the Knox Academy before moving south. I have many fond memories of East Linton and going to Seacliffe beach for days out. †We were both brownies and guides - and both train bearers at the Gala Queen - would love to hear from anyone
Jacqueline Nichol has contacted us with the following:

Email:lady_de_winter@hotmail.co.uk

"Hi
Does anyone remember my Aunt Daisy, she used to work in the post office when I was a girl .I am the grand daughter of Jenny and Bill Nichol."

I kindly would like to ask you if you can help me out with the following, I am trying to locate Next of Kin of the following soldier who was killed during the Battle of Arnhem, September 1944 in Netherlands.
SUMMERFIELD, ROBERT HENRY
Rank: Corporal
Service No: 3058103
Date of Death: 20/09/1944
Age:26
Regiment/Service: The Parachute Regiment, A.A.C., 3rd Bn.
Panel Reference: Panel 8.
Memorial: GROESBEEK MEMORIALAdditional Information: Son of Robert Henry and Jane Summerfield, of Gullane, East Lothian.
If I have it well his parents and two sister are buried at Prestonkirk Cemetery.
Thank you in advance for your help.
Yours Sincerely
Philip Reinders, Netherlands
reinders2@upcmail.nl

I hope you can help me with some information from the 1920s or point me in the direction of anyone who may be able to help.
My late uncle was born illegitimately to an Annie Lugton in June 1929, Annie being listed on his birth certificate as a domestic servant, domicile, 'The Common' East Linton.
A few days after his birth in Edinburgh he was adopted by my grandparents. He became a concert pianist and Professor at the Royal Academy of Music.
I would be interested in any information about 'The Common'. Was it a private house or some sort of institution? Does it still exist? Any information would be valuable to my genealogical research.

>Thank you,
>John Gillies
>gilliesmail@virginmedia.com

My mother Mary Greig (born in Ladybank, Fife in 1899),was raised in East Linton and moved to Canada in 1920 with two brothers a sister and my grandmother Margaret Greig. My grandfather Thomas Rob Greig died in 1907 and is buried in Prestonkirk parish churchyard (survey number 261).

Two of my uncles Thomas and Alexander Greig are also buried there (survey number 294). Both died from a gas attack on the front lines in World War 1. My grandmother was a midwife in rural Manitoba after her arrival here and we are interested if this is how she supported the family when living in East Linton.

If any one may have infoRmation on our family we would be interested in receiving it . My grandfathers obituary states that he died at Markel Gates, East Linton.

Thank you very for this opportunity to get in touch with you.

J SCOTT
JSCOTT99@shaw.ca
---

Hello,

I am writing to you to try and find information about a relative who lived in East Lothian, apparently at an address:

Redfriars.

Her name was Erica Rosemary Law. Her sons were Nicholas Simon Law and James Christopher Law.

I wonder if you have any information on their whereabouts?

Thanking you,

Evan Hardie
evanbhardie@gmail.com

---
Hello community members in East Linton. Your village was the last place where my Grandmother Mary (Miller) COSSAR lived prior to her death in 1905. I see her on the 1901 Scotland Census living alone at age 84 in East Linton.
Her Granddaughter Elizabeth Cossar from NZ was staying with her at the time leading up to her death.
Has anyone seen a grave with her headstone in any cemetery in your region? Does anyone know anything about her or the Family? We know she was widowed young and only had one surviving son George James who emigrated to NZ in 1863. He attended school in Dunbar he recalled. Thomas her husband supposedly died in Jan 1847 but we have so far not found any Death record, although his family Headstone in Duns Kirkyard has his death recorded as January 1847. He was to have appeared in Edinburgh court 27/28th Jan but failed to do so. We have that mystery as well. A Family story had him dying at 'Africa' Well we know there is a farm at Bonchester Bridge way (Millbrook Farm) and he might have had cousins living there. Thomas had been a horse breeder/trader as his father Walter had been but was a Tenant Farmer at the time of his demise.
My husband & I will be visiting the Borders area again after doing some Family Research in Edinburgh, Hawick & Galashiels
My COSSAR family members were Tenant farmers in the Dunse rural area until up to 1900.
Mary Cossar was the daughter of George and Mary Sleigh who farmed at Oldhamstocks Mains, Springfield Farm and also Birnieknowes.
Anyway should anyone have any information my extended Family here in New Zealand would love to hear of it.
WE are looking forward to visiting your area of Scotland again.
Kindly,
Liz Pryor at
---
From M Husband

I was born in London during ww2 and was taken to my grandparents in East Linton till after the war ended. I then returned to East Linton every school holiday untill my grandparents died in 1957. Their name was William and Bertha Logie Robertson. I am anxious to contact anyone who remember them.

email: m.husband@btinternet.com

From Lawrence Dinse

Having spent the day visiting the wonderful area around East Lothian, especially East Linton,and someone who likes nothing better than to climb Dunpender Law and take in the tranquility and majestic views from the top. After reading in your informative website about Traprain Trails idea regarding mountain bike trails on Traprain Law, I thought i would put in my penny's worth regarding the possible mountain biking on Traprain Law.
As someone who advocates the enjoyment of people to have access to the country side and indeed cycling is a good form of getting young people to see the country.
However i do feel there should be places that are deemed as special places of tranquility and solace. Traprain Law has a ancient history second to none, and indeed when climbing the hill its one of the few places in which people can get a sense of peace and spirituality.
I am 48 and maybe sounding like a bit of a hippy, however i do feel that with the addition of the Exmoor ponies the hill it should be left as it is. I do feel that dozens of mountain bikers racing around the hill would indeed detract from the feeling of tranquility and peacefulness that one seems to find on Dunpender.

I hope this e-mail makes sense. Kind regards to you and the community around Dunpender. You are indeed lucky people to live in such a special wee part of our country.

---

jean.millar@yahoo.co.uk

Views From Afar:: Jean Millar (nee Craig) from Edinburgh. My father (now deceased) was called Peter Craig (aged 86)from East Linton, He had a few brothers one I think was James Craig. His father was called James I think also. The street names are also significant to my childhood. My grandfather lived in Lauder Place and Browns Place. My mother was also at Phantassie Farm (she is now 86) where she was in the land army and met my father there also. Anyone with any connection can email the above.

Peter Craig contacted us from Edinburgh again:
My grandad and granny lived at Lauder Place. My few memories are of fruit in the garden and a big old black range. His n
---
ame was Peter Craig too and my dad was Peter as well.

---

Lilian (Ford) Davis contacted us from Missouri USA:
Live in Chillicothe, Mo, USA zip code 64601 My granpa & granny raised me at 6 Lauder Place, his name was John Pettigrew.. I have a cousin living there named Ellen Reid, at 7 Langside. I have wonderful memories of East Linton, & its people. i never made it back there, & probably wont, as i am 70 yrs old. But oh how i wish i could..


---
Julia Bounab has contacted us from Edinburgh:
"I grew up in East Linton, my mother Helen Loch lived there and for many years I lived there. She ran Smeaton nuseries with Stewart, I loved the differant seasons we had walking around Smeaton Lake, the haymaking and bluebell woods. Its a beautiful place and I still love and miss it. I now stay In Edinburgh with my daughter but plan to move South in a few years.But every now and then my thought turn to the village and farm and I feel homesick."

Sue Craig has contacted us from Spain:
"We left Scotland in June 2007 to live in Javea, Spain. As much as I enjoy our new life, I still have a great nostalgia for East Linton and Fortune Bank, where I have a lot of friends.
I'm very bad at keeping up to date with correspondence, but don't want to lose touch with all the lovely people I know, so this website will be very useful for me. Thank You!
When I've got more time I'll send some photographs.
Best Wishes
Sue & William"

Peter Craig has contacted us from Edinburgh

---

"I was born in East Linton due to my father working at phantassie and mother in land army where they met and moved to Edinburgh age 6.
I visited grandad in Browns Place during my school holidays, meeting him outside the Red Lion to walk up for tea.
At 17 seeing my beloved grandfather buried in Prestonkirk I always feel a strong feeling I'm being pulled back to the village.
As I live in Edinburgh hope to get down more and definitely on gala day"

A lot of visitors to the site come from outwith East Linton. We would like to hear from you, how you are doing, why you moved away or what you think of the website and why you use it. If you have any photos, either from East Linton or from where you are you can email us. Use the contact form below.